Ricetta da

Portata

Tempo di Preparazione

10 minuti

Tempo di Lievitazione

24 ore

Tempo di Cottura

5 minuti

Difficoltà

Portate per

4 persone
Votazioni Ricetta
Ingredienti
250 gr

1/4 lt

5 gr

1 q.b.

1 lt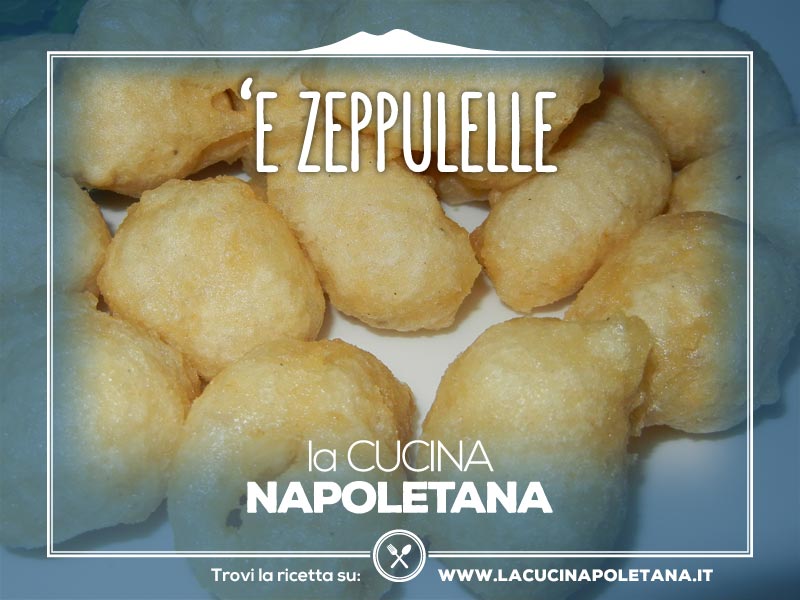 Tene' 'na mana a fa' zeppole
Ha una certa abilità a fare le zeppole! (Essere abile ad imbrogliar la gente)
La pasta cresciuta ( 'e zeppulell ) è una pastella davvero di semplice preparazione che a Napoli viene utilizzata per le fritture, rendendole cosi croccanti e con un tocco di sapore particolare!
Nelle ricette napoletane, questo impasto base, si utilizza in svariati modi per friggere differenti alimenti come: peperoni, carote, broccoli, cavolo, zucchine, melanzane, le famose zeppoline di alghe, le esplosive zeppole con i ciurilli (fiori di zucca) o le frittelle di cicinielli (bianchetti).
Ma la pasta cresciuta è ottima anche da sola, innaffiata da sale e pepe e rappresenta una delle protagoniste indiscusse dei famosi "cuoppi napoletani", insieme ai crocchè (panzarotti) e gli arancini ('e palle 'e riso), che tutte le friggitorie della città di Napoli vendono in ogni angolo grazie anche all'inebriante profumo che nell'aria si respira,  emanato proprio dalla frittura della pasta cresciuta.
Ogni bambino vissuto a Napoli, ha avuto almeno nella vita un desiderio… un bel "cuoppo di zeppole e panzarotti" tutto per se!
Warning
: count(): Parameter must be an array or an object that implements Countable in
/home/nginx/domains/lacucinanapoletana.it/public/wp-content/themes/socialchef-child/single-recipe.php
on line
204
In un recipiente capiente mescolate la farina, l'acqua e un po' di sale. Solo alla fine aggiungete il lievito sciolto con un po' di acqua tiepida.

Sbattete energicamente il composto con le mani e lavoratelo fino a ottenere un impasto arioso, omogeneo, privo di grumi ma non eccessivamente denso.

Finito di impastare il tutto, lasciate riposare 24 ore in frigorifero (temperatura non inferiore ai 4°) o per quanto più tempo vi è possibile. Se il vostro frigorifero ha temperatura più bassa di 4°, lasciate lievitare a temperatura ambiente l'impasto dalle 6 alle 12 ore e a seconda di quanto lievito avete inserito. + lievito - tempo di lievitazione = impasto di minore qualità - lievito + tempo di lievitazione = impasto di maggiore qualità e digeribilità

Tirare fuori l'impasto qualche minuto prima di iniziare la frittura. Fate riscaldare l'olio di semi di arachidi in una padella profonda.

Formate delle palline di pasta con una mano bagnata o con l'aiuto di un cucchiaio e immergetele nell'olio.

Appena dorate toglietele dall'olio, sistematele su una teglia con carta assorbente, salate, pepate (se gradite) e servite.

NOTE E CONSIGLI
Se non si hai a disposizione 24 ore per la normale e consigliata lievitazione, porta a 15gr o 25gr la quantità di lievito, in base alla possibilità di attendere o meno il tempo del processo di lievitazione.

Deprecated: Function get_magic_quotes_gpc() is deprecated in /home/nginx/domains/lacucinanapoletana.it/public/wp-includes/formatting.php on line 4791

Deprecated: Function get_magic_quotes_gpc() is deprecated in /home/nginx/domains/lacucinanapoletana.it/public/wp-includes/formatting.php on line 4791